06/11/2014
Exchange visibility agreement with the auction house Meeting Art Spa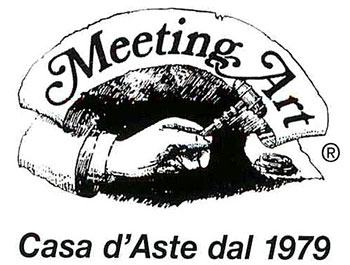 The Florence Art and Restoration Fair in has made an agreement to exchange visibility with the auction house Meeting Art on their respective websites.

The auction house Meeting Art SpA was founded in Vercelli in 1979 and in 1999 became a public limited company whose current president is the founder Mario Carrara while the CEO is the son Pablo. The house - located in the historic building of course Adda - operates through six different departments: Modern and Contemporary Art, Paintings from the XIX and XX centuries, Oriental Rugs, Antique Furniture, Modern and Vintage Jewelry and Watches. Meeting Art is confirmed by the first-year auction house in Piedmont and one of the first in Italy.
Located in the historic first capital of the province, the sensitivity and the interest of sellers and Buyers decreed immediately successful. The rooms - spread over three floors where the works were space and light - give visibility to the activity which in 1985 moved to the now historic building of over 11 that Adda In recent years, the considerable expansion - already wore tight. In the first months of 2009 was in fact inaugurated the new headquarters - adjacent to the previous year - with more than 2500 square meters, a department store three levels reached by refined management plan, they gave the company (ever-expanding) a renewed image and competitive.
The year 2009 was a historic year as they celebrated the first thirty years of Meeting Art, an event that will repeated in 2014 with the celebration of 35 years.
The crown jewel of the company Vercelli is the field of Modern and Contemporary alone accounts for more than half of the turnover. In addition to the famous names from the national and international art scene. much space is devoted to young artists.
In addition to traditional room bids in the auction house offers its customers (which counts 30,000 names between Italian and foreign buyers) other important methods of purchasing through the media. For many years, the sessions are broadcast live on various Italian Digital Terrestrial Television Stations, "People's TV", "ABChannel" "The 6" and the mid-90s, you can follow the bidding sessions, submit offers and buy lots through the Web, the official site updated constantly. From 2004 auction are signed Meeting Art also visible on satellite channels 825 and 835 on Sky.
The program provides auctions from September to June with sessions sale every Saturday and Sunday of the month at such as adding additional sessions during the holidays and sometimes during the week. generally auction two-week exposure has already visited a week earlier.
For more than a year, the traditional auctions were side by side, with sessions during the week, from auctions called "With Auctioneer Alerts", where the entire conduct of the auction is organized by the Information System Meeting Art, highlighting the potential commercial growing of business on the Internet.